Cold emailing is the most sought-after sales tactic as it gives you great results each time. However, sending cold emails at scale can get tough manually because it isn't just about creating email copies anymore; you also have to add personalization elements to them. Only then, the recipients will open them and engage with them. Therefore, you would need help to carry on with your email outreach. Automating the whole process is one way of making it easier for salespeople. That is why you need an email outreach tool that can automate the process for you. There are many email outreach tools around that it gets tough to choose the ideal one for your business needs. Let's compare the two most well-known tools Mailshake v/s SalesBlink.
But first, we'll see take a look at them individually,
Table Of Contents
What Is Mailshake?
Mailshake is a sales outreach and engagement platform for sales teams. It enables you to send personalized cold emails and reach out to prospects through other channels like phone and social media.
The tool helps you turn cold prospects into warm leads. In addition, you can integrate it with other platforms like SalesForce, Pipedrive, Hubspot, and more.
What Is SalesBlink?
SalesBlink is a sales outreach automation suite that helps find prospects, reach out to them through multiple channels, get booked with meetings, and allows you to close sales deals at lightning-fast speed. It is essentially a full-stack cold outreach platform.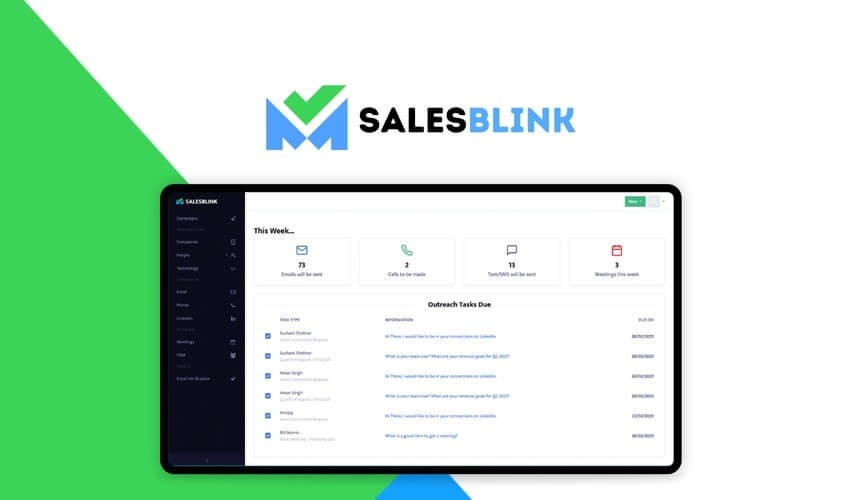 You can call it a one-stop-destination for salespeople to find targeted prospects, launch automated and custom outreach campaigns, and close deals.
Here is a comparison between Mailshake and SalesBlink based on the stages of the sales cycle.
Mailshake v/s SalesBlink – Prospecting
Mailshake aims at automating cold outreach alone. That is why it cannot help you in the prospecting stage of the sales process.
On the other hand, being a complete package, SalesBlink takes you through all the sales cycle stages, i.e. from prospecting to outreach to closing.
There is a lot that SalesBlink has to offer for the prospecting stage of the sales cycle. Let's take a look at them,
1. Domain search
With SalesBlink, you can find a prospect's business email address, phone number, and social media links just by entering the company's domain. You don't have to know the name of people to reach out to them. What's more, is that you can target the prospects through various channels with the details.
2. Email Search
When you want to look up someone's email address, all you need to do is enter the first name, last name, and the domain name of the prospect, and you can get your result. There is a vast database of more than 1 billion email addresses that makes this possible.
The advantage is that SalesBlink verifies all the emails in real-time. The accuracy level is 99% which ensures that your emails will reach the intended recipient's inbox.
As the email finder and email verifier work together, you don't have to go elsewhere to get your job done. Also, there is no limit on the number of emails you can search. You can search for one person's email address or upload a CSV and search for email addresses in bulk. It is all in one place.
3. Company Search
You can use the company finder to search for companies based on country, industry, and company size. At the end of the search, you will have a list of ideal prospects to who you can reach out.
This feature can even help you find the email addresses of the employees of the companies, and it will help you during outreach.
4. Email verification
Verifying email addresses is easy with SalesBlink's email verifier. It is possible to verify a single address or the whole mailing list with a click with this tool. Also, there is no need for any manual uploading. Upload email addresses you want to check and download the result instantly.
The email verifier carries out SMTP validation, syntax validation, DNS records validation to check whether the email addresses are deliverable or not. The tool will mark addresses as valid, invalid, or risky so that you can remove the invalid and risky ones to keep your list clean. Using the email verifier improves sender reputation and prevents emails from hitting the spam folder.
Mailshake v/s SalesBlink – Outreach
Let's see how Mailshake and SalesBlink are different in the outreach stage.
Mailshake handles outreach well. You can manage everything in one sequence on a single dashboard. Here is what Mailshake has to offer,
1. Email outreach
It is a dedicated platform for automation of cold outreach through multiple channels, namely email, social media, and phone. It automates sending personalized cold emails at scale along with follow-ups.
There are cold email templates to choose from for your emails. These are proven email templates that ensure maximum deliverability. You can use the templates straight away, but it is better to personalize them to stand out in the crowd of generic emails.
Mailshake also enables easy personalization by letting you add details of recipients via mail merge for a new campaign. It adds first name, last name, name of the prospect's company, and page URL.
To create an email list for the campaign, you have to manually import a CSV file of contacts. There is also the option of importing data from other platforms like LinkedIn, Pipedrive, or any other compatible platform through Zapier integration. Also, you have to use only CSV files for mail merge to work as Mailshake doesn't support Google Sheets.
What's more, with Mailshake, you can send trigger-based email follow-ups. Also, you have the unsubscribe feature to allow recipients to opt-out when they wish to.
2. List cleaner
When you drop in a contact list in Maishake while creating a new campaign, there is a list cleaner to help you verify the email addresses. It is an important feature to keep your list free of invalid addresses that can affect your email deliverability.
3. Live campaign management
Mailshake allows you to manage campaigns that have already gone live. Using the tool, you can edit outbound emails and follow-up emails that the recipient has not received so far. You can also pause email sending and add new recipients to an active campaign. This feature gives you more flexibility. For instance, you can pause automated follow-ups as soon as you receive a reply from the recipient. It is even possible to customize the gap between follow-up emails.
You can easily incorporate social media such as LinkedIn into your email sequences. There is the Mailshake Dialer to simplify your work process for phone outreach though you can always use your browser's dialer. It enables you to develop a multi-channel outreach campaign easily.
5. Track campaigns
Mailshake Lead Drivers let you track opens, clicks, and replies for each email you send and also tells you which part of your sequence offers good results.
Now let's move on to what SalesBlink has to offer.
Just like Mailshake, you can use SalesBlink for automating outreach. It has all the features that Mailshake possesses, along with a few more. But before drawing out the differences, let's take a look at what SalesBlink has to offer.
1. Email outreach
The platform lets you launch automated cold email campaigns with multiple follow-ups. There is a template library that enables you to choose from a list of high-converting templates. You have text and image personalization features as well to make your emails stand out. What's more is that the software allows you to track opens, clicks, and replies to emails so that you know where the campaign is heading. Also, just like Mailshake, you have the unsubscribe feature intact in SalesBlink.
2. Cold call outreach
With SalesBlink, you can create call sequences and reach out to prospects effectively. You can sync it with other outreach channels. In addition, the platform lets you track the outcomes from cold call outreach.
3. LinkedIn outreach
Being a huge networking platform, LinkedIn will fetch good results, and that is why SalesBlink adds LinkedIn to its outreach channels. You can create LinkedIn outreach sequences using SalesBlink and even integrate them with other channels. Plus, you can track connection requests and the replies of prospects.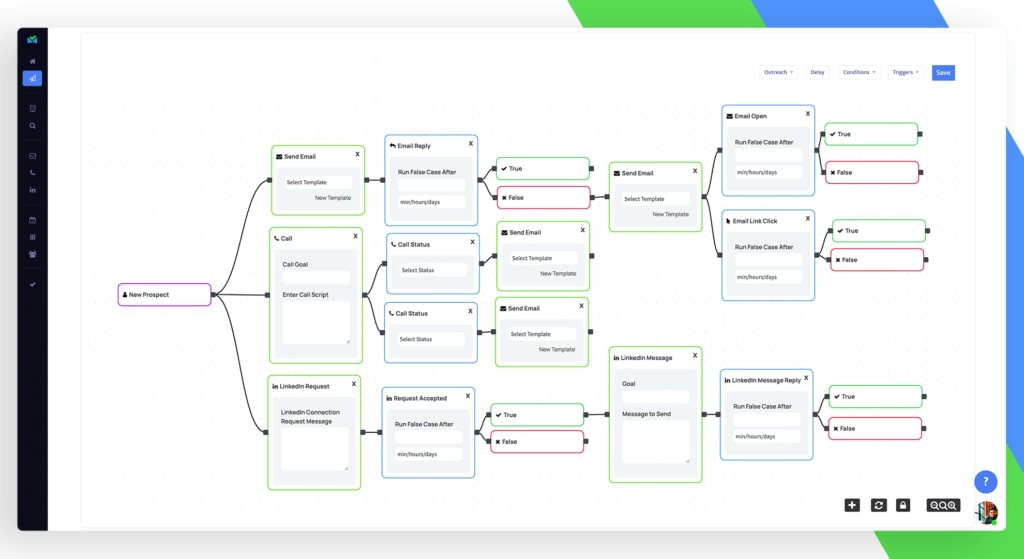 Mailshake v/s SalesBlink – Main differences in the outreach phase
Unlike Mailshake, there is an image personalization feature in SalesBlink. You can upload a picture and add a tag of the prospect's name, company's name, or any other detail and personalize the image. SalesBlink lets you do image personalization at scale so that you can get great results from your email campaign without having to spend hours working on every email manually.
SalesBlink gains a point over Mailshake by providing the image personalization feature. Personalization of images goes a long way in capturing the attention of prospects as visuals convey messages faster than text. However, MailShake doesn't offer this feature which can seem disappointing to many.
It is an important feature when you want your outreach campaign to be successful.
Mailshake v/s SalesBlink – Closing
Let's compare Mailshake v/s SalesBlink in the closing stage.
Mailshake has a lead center where you can find all the leads in one place and manage them. It will help you ensure that you are following up with your lead. It is possible to take a look at the entire conversation with each lead. You can see their replies and carry out more follow up.
However, you can connect Mailshake with CRM or other tools at your convenience.
The integration feature allows you to connect Mailshake with other CRMs and platforms, making Mailshake more powerful.
On the other hand, you have SalesBlink that offers you the following for the closing phase:
1. Sales Pipeline
This feature makes it possible for you to manage prospecting follow-ups and lead nurturing in one place. You can track the performance of your sales team, manage client deals and get revenue forecasts. You can create customer pipeline stages based on the requirements of your business.
2. Meeting Scheduler
The meeting scheduler allows prospects to schedule a meeting with you. You have to sync your Google Calendar with the scheduler and set your availability.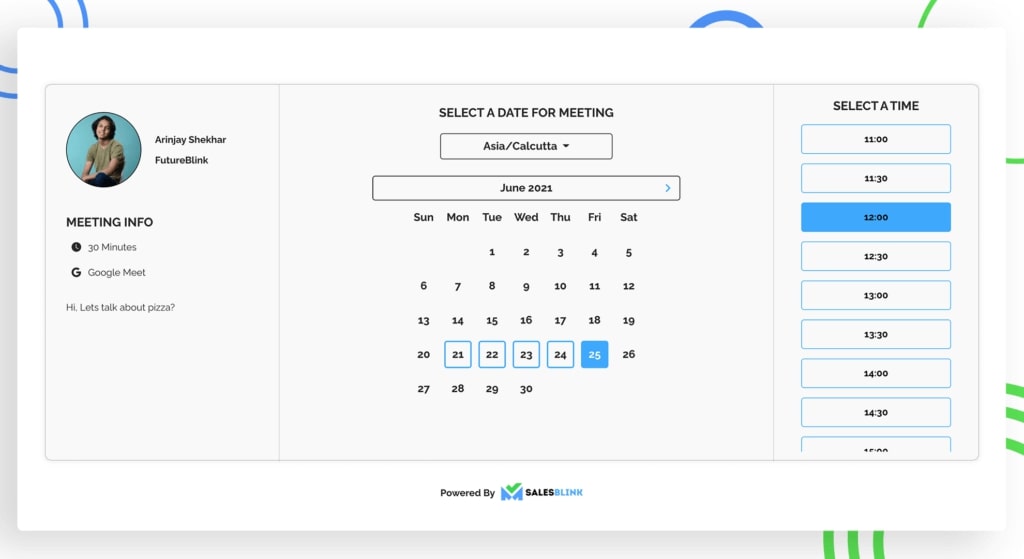 The shareable meeting link enables others to book meetings without sending and receiving piles of emails to fix a date and time. As a salesperson, it will help you plan your days based on the scheduled meetings.
3. CRM
Using SalesBlink's inbuilt-CRM, you can easily manage the data of your prospects in one place. The whole communication history with each prospect is available to you. It would help you take a glance at the entire sales cycle without having to put in effort.
Now that you have seen the difference between Mailshake and SalesBlink based on the stages of the sales cycle let's take a look at the other factors,
MailShake v/s SalesBlink – Pricing
Mailshake
For monthly billing, Mailshake's Email Outreach plan costs $59 per user per month, and the Sales Engagement plan costs $99 per user per month.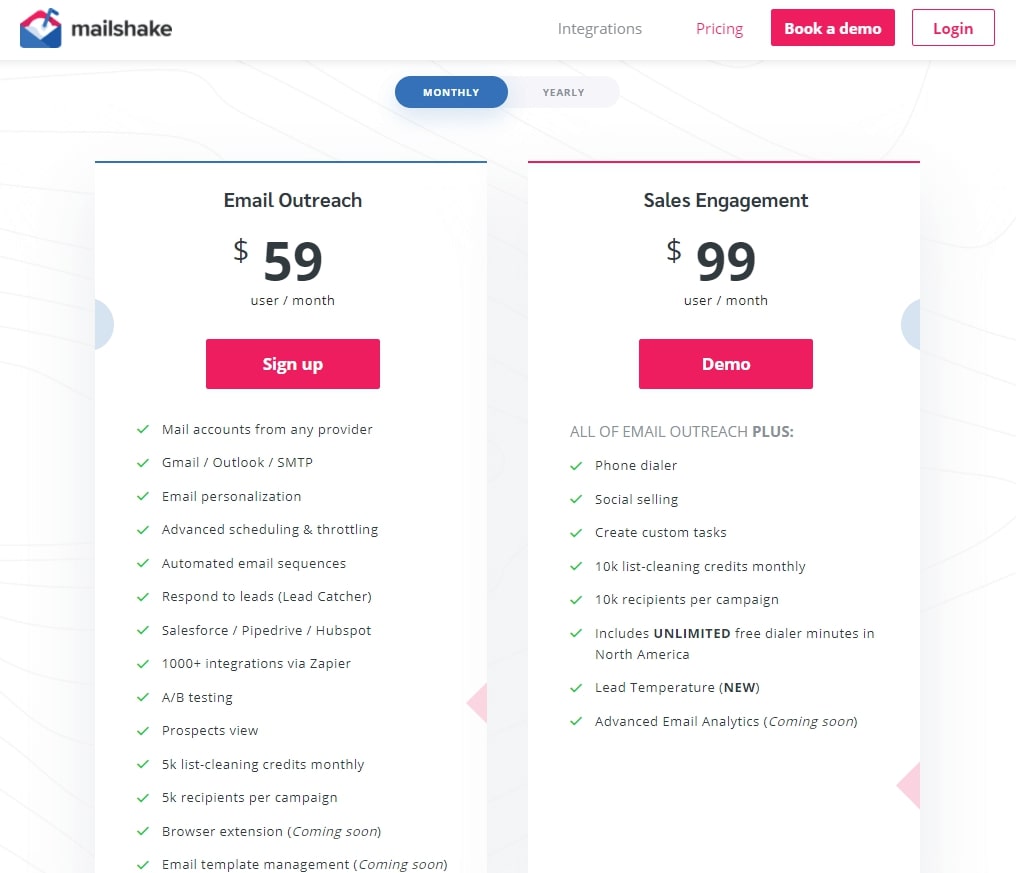 \The Email Outreach plan costs $44 per user per month for yearly billing, and the Sales Engagement plan costs $75 per user per month. Compare Mailshake with SalesBlink.
SalesBlink
SalesBlink has 3 different plans to offer based on the different needs of users.
Here's a closer look at SalesBlink's plans,
Email Warm up Plan – $15 per month per user
This plan automatically warms up your email account which helps boost email deliverability.
Email Outreach Plan – $39 per month per user
This plan includes all the features of the Email Warm up plan along with features that you require for effective email outreach.
Sales Outreach Plan – $49 per month per user
This plan has all that the Email Outreach plan offers along with features to enable users make cloud calls, create sales pipelines, automate DealStage and get team reports.
You get a discount of 15% if you choose yearly billing.
The comparison
The prices of both are competitive, but SalesBlink gets an edge over Mailshake because it offers to manage your sales process right from prospecting to outreach to closing. On the other hand, Mailshake is charging you this sum for outreach and sales engagement alone. You will have to purchase additional tools to meet your needs as a salesperson.
SalesBlink has two free tools to offer, while Mailshake has one.
1. Email subject line generator
You can use the free email subject line generator to generate subject lines for your cold emails. There are no prizes for guessing that recipients open emails based on the subject line. You have to make it seem so compelling that the recipients can't resist opening the email. That is why you have to craft catchy email subject lines.
Personalization is the key with subject lines. When you personalize emails with the first name of the prospect, it gives them a good feeling. Also, it makes the email stand out in the cluttered inbox. When prospects see their name, there is an instant reaction in the brain that draws their attention. There are many other ways of personalizing the subject line as well.
In addition to that, you can present statistics right in the subject line that would make the recipient want to know more and, as a result, make them click the email open.
However, it is essential to make sure that you are not doing click-baiting, i.e. using a subject line that does not match the email's content to lure the recipient into opening it.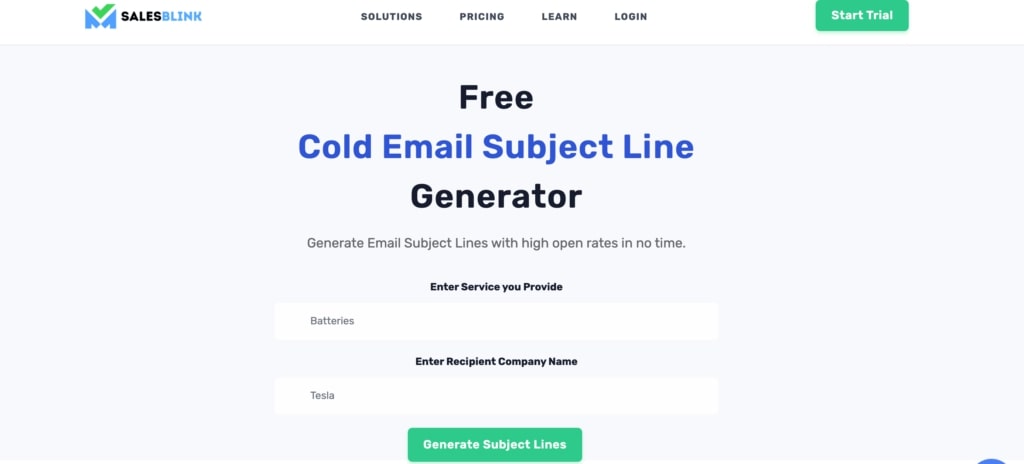 You would need help to create attractive subject lines for emails. SalesBlink's free tool serves that purpose. You only need to enter the service you provide and the name of the recipient's company.
You will get five relevant subject lines along with their possible open rates so that you can choose the one that seems to be a perfect fit for you.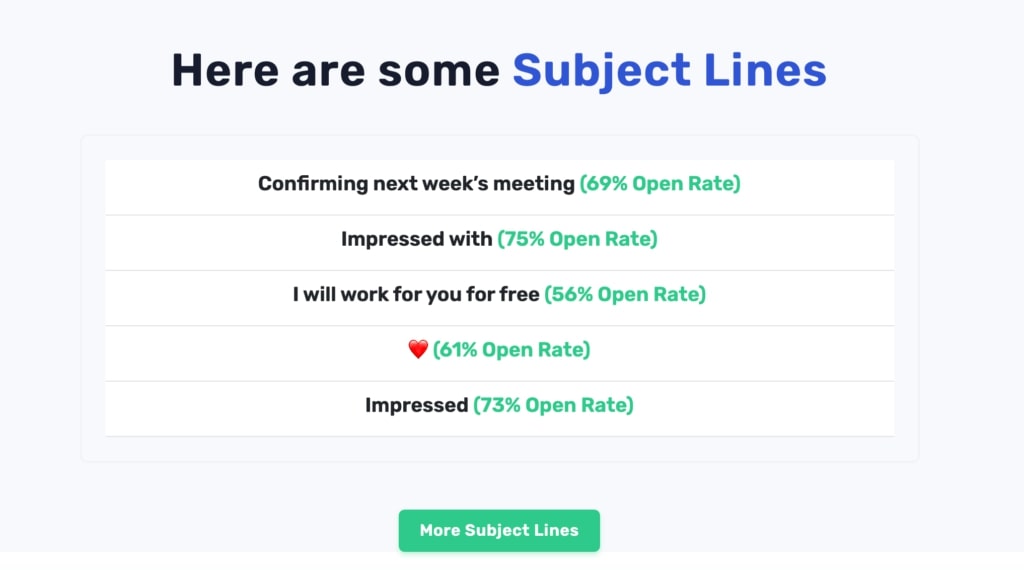 Overall, SalesBlink's email subject line generator is a handy tool for salespeople who need help in writing impactful subject lines for their emails.
2. Email signature generator
Creating an email signature is essential to look genuine to your prospects. In cold emailing, the recipient doesn't know about you or your product or service. Therefore, you have to provide the recipient with all the details in your cold emails. It also makes you look professional and helps with branding your business. An email signature is the best way to do so. With SalesBlink's free email signature generator, you can create your signature using the templates available.
You are free to customize the email signature as per your choice.
Another feature of this generator is that it lets you use it for your email account with email service providers like Gmail, Outlook, and Apple Mail.
1. Email Copy Analyzer
Mailshake's email copy analyzer helps in improving the deliverability and readability of an email copy. It checks the email in real-time and offers improvements.
All you need to do is copy the text of your email into the tool's text box. It will analyze the email and provide recommendations to improve the copy's deliverability and readability. The tool also makes the email easier to read and helps prevent it from getting caught by spam filters or ending up in the promotion tab.
Overall, this tool is quite handy to make your emails hit the inbox of the intended recipient.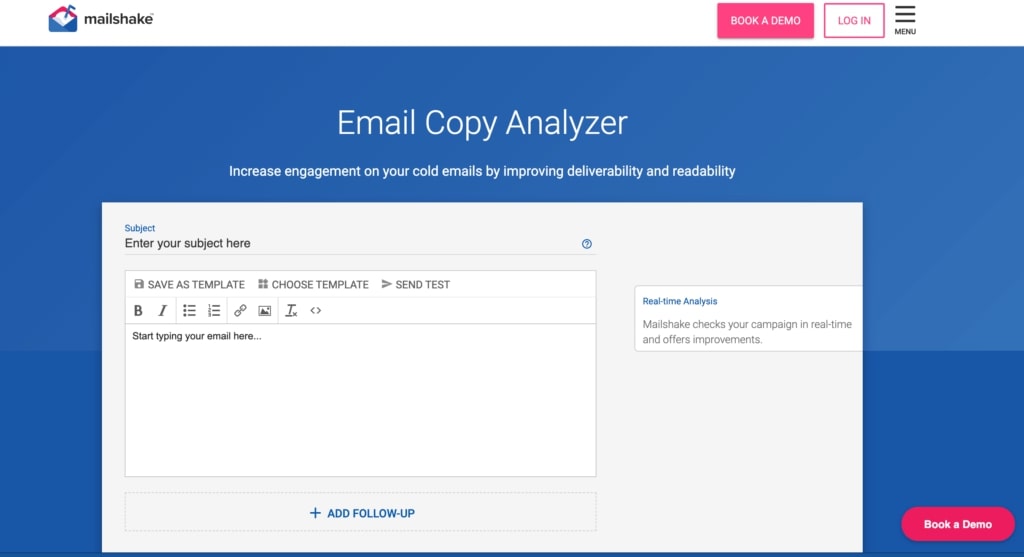 Mailshake v/s SalesBlink – The Major Difference
So far, you have seen the difference in features, and now it is time to draw the differences in functionality between Mailshake and SalesBlink.
Mailshake is mainly for outreach. You have to use other tools for finding prospects and searching for their contact information which is a massive task in itself. So essentially, Mailshake is a dedicated outreach tool that also helps you manage leads and take a look at the conversation history whenever you want.
In contrast, you have SalesBlink, a full-stack cold outreach platform that helps you find prospects, reaching out to them via multiple channels and closing deals.
Conclusion
Both SalesBlink and Mailshake are amazing platforms as you can see after reading about their features. However, those looking for a full-stack cold outreach platform would choose SalesBlink, while those who are okay with integrating with other platforms can use Mailshake. Both the tools are powerful and feature-rich, with SalesBlink having a little more to offer than Mailshake.